Isn't it great to live your 50's
as if there was no change?
To overcome the symptoms of that dreadful transformation and lead a joyful life is NOT that complicated…

Menopause is an inevitable phase in every woman's life, and it generally comes with a series of troubles caused by hormonal disorder. That phase has always been a stress for most women; weight increase, hot flashes, insomnia, vaginal dryness, lower hormonal level…all these symptoms are stressing and keep your mood down, and that's unbearable sometimes. You have to learn how to cope with those symptoms, how to keep your good mood up and enjoy your 50's as if nothing changed. All what you need is willpower and some natural help; you can overcome those menopause symptoms just by regulating your hormonal level and regain some cheerfulness. Only natural products made of pure herbal ingredients can help you cope with those symptoms and bring you back your jollity in the safest and most natural way.

A Medically approved Formula: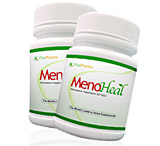 MenoHeal™ has always been considered as the safest and most natural product helping the body to overcome menopause symptoms peacefully and without any side effect. Its natural ingredients have been selected with great care and combined to produce a unique formula. MenoHeal™ regulates your hormonal level, helps you cope with the symptoms in most natural way and has been manufactured under the control of health experts to guarantee you quick and effective results with no single side effect.
How does MenoHeal™ work?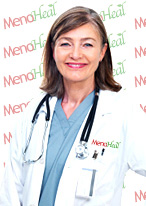 MenoHeal™ is a natural formula of herbal ingredients like Saraca indica and Symplocus racemosa that effectively help coping with the transitional symptoms of menopause.
During menopause there is a remarkable decline in ovarian functions and in the levels of FSH (follicle stimulating hormone) and LH (Latinizing hormone).

This alternation decreases the levels of estrogens and progesterone hormones which ultimately stops the monthly periods or makes them irregular. That low level of estrogen directly affects hypothalamus, which is responsible for various functions. The drop in estrogen confuses the hypothalamus and disturbs its normal functioning which causes the nasty symptoms of menopause.

MenoHeal™ is the richest source of phytoestrogens (estrogen extracts from plants) that provide the woman with many advantages and help her during menopause

MenoHeal™ regulates your hormonal balance to enjoy a peaceful life, naturally.

take 2 capsules of MenoHeal per day with a glass of water. Following a regular course will ensure significant release from your symptoms.

Each bottle of MenoHeal™ contains 60 capsules.
Is MenoHeal™ right for You?
MenoHeal™ is your partner to cope with your menopause symptoms. It regulates your hormones and let you enjoy your 50's naturally and safely.

Doctors would recommend you MenoHeal™ in case you want to:
Reduce hot flashes.
Restore your mood swings.
Solve your sleeping troubles.
Prevent the dryness of your vagina.
What also makes MenoHeal™ different from other treatments available in the market today are the advantages it presents:
Its formula is approved and recommended by Doctors.
The results are quick, safe and effective.
It has a purely natural formula, free of any side effect.
Every order of MenoHeal™ comes with a 180-Day Money Back Guarantee. If you are not satisfied with the results, your purchase will be refunded without hassles.

MenoHeal™ has been made especially to ease your menopause and its success is outstanding!